05 Aug

Top 12 traditional summer job suggestions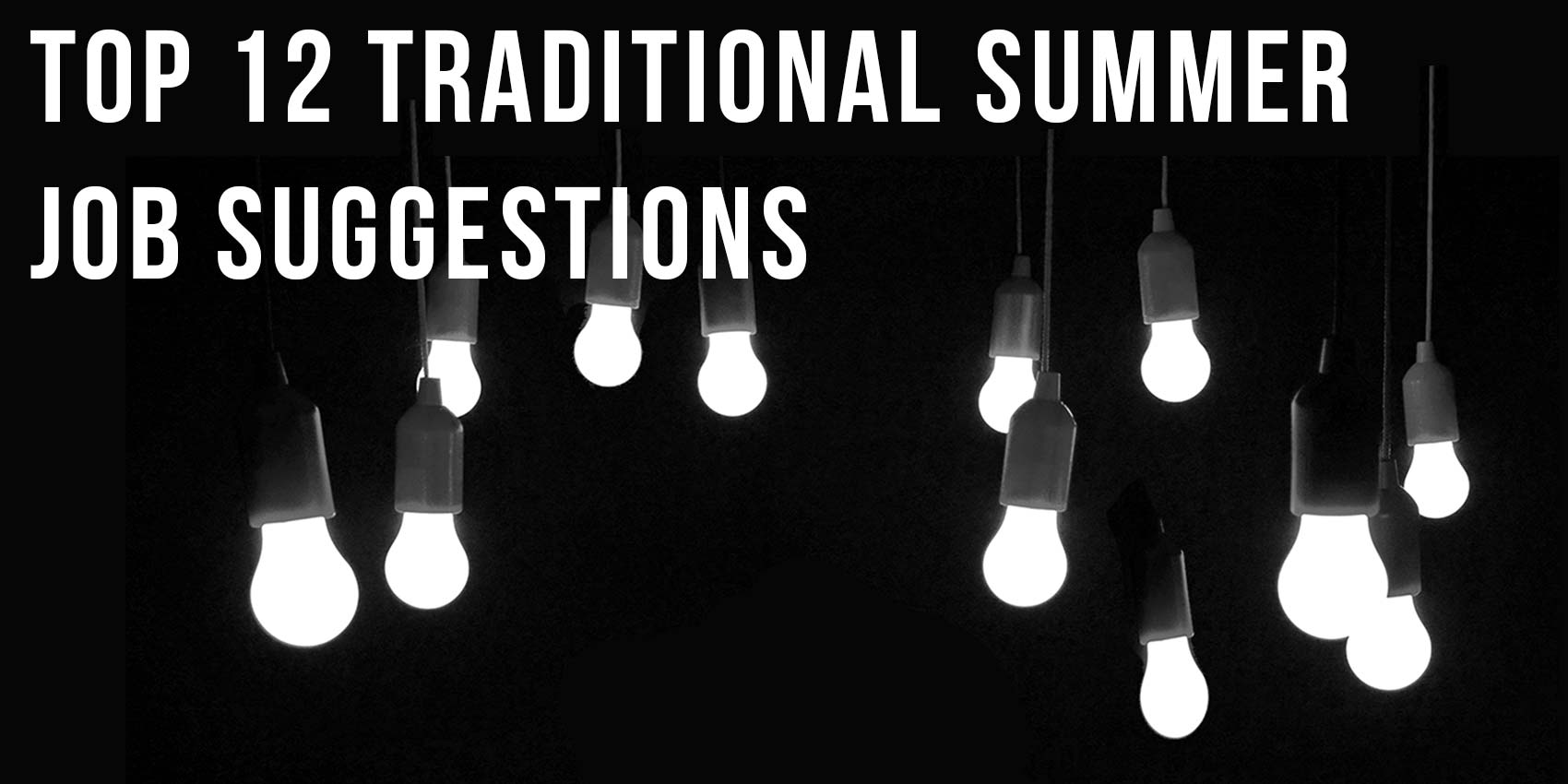 Want a summer job but need a few ideas? Good luck! Ha ha, just kidding. You've come to the right place. Below is a short list of prime summer jobs that can land you cash, skills and even a few friends along the way:
Camp Counsellor: Enjoy working with kids? Enjoy being outside? These are just two of the upsides to working at a camp (well, if you answered "yes" to the questions). For many kids, camp is what they look forward to all year – fun with their friends. You could be a part of that and get paid.
Lawn Care: All lawn care companies need extra workers in the summer. If you don't mind hard work and you enjoy being outside, lawn work, weeding and general garden care often pays pretty well. Keep in mind the idea of starting your own lawn service company on your block as well!
Movie theatre attendant: Summer time is movie blockbuster time and that means movie theaters need extra employees to handle the crowds. This is often a job that starts later in the day, giving you some flexibility, with the added bonus of getting to see some movies for free.

 

Babysitter: Lots of parents need extra help during the summer, especially if they are working. They might not have a camp for their kids or they might need a few extra hours between the end of camp and when they get home or they might just want to have a few romantic summer nights out at the movies! In the same vein, many families who vacation in beautiful summer towns are looking for live-in babysitters for the summer. Ever wanted to travel to the other side of the country, another country or spend the summer at the beach? Being a mother's helper is a great way to do so!
Petsitting: Summer time is travel time for a lot of families. When people go on vacation, their pets still need to be fed and walked. Many people don't like to put their pets in kennels and would prefer to have someone visit a few times a day to take care of their pets at home. This job is a huge responsibility – pet lives will depend on you – but hugely helpful and rewarding if you are a pet lover. Alternatively, the pet could come live with you if your parents are on board with the idea.
Car wash: Whether you work at an established car wash or go door to door with your supplies, people always like to have their cars kept clean, especially in the summer time when they are out and about. Consider going to larger businesses where people park their cars during 9-5 work. They work and return to a clean car – that's a nice perk!
Pool cleaner: Pools are only open in the summer time and that means pool companies are hiring! You are outside and the work is not crazy strenuous.

 

Tutor: Many families like to help their kids keep up to speed with academics or help their kids to catch up during this time. If you are particularly skilled in a subject, tutoring can be a great way to earn money. It's a flexible and well paying job where you are helping someone. Hard to beat that.
Golf caddy: Summer is golf time and many private clubs are looking for young teens to help carry golf clubs along the course. Hard work and lots of walking, plus you need to know golf, but the pay is usually excellent from the tips.
Lifeguard: Are you an expert swimmer? Turn that talent into cash and a great tan by working as a lifeguard. You need to be able to stay focused – lives do depend on you – and you will need CPR certification, but this is a top rated summer teen job.
Sports instructor: Feel like you are talented in your sport? A great tennis player? Hoops player? Swimmer? Consider teaching your skills to other kids. Private sports instructors are definitely in demand during the summer and it's likely that your going rate will be less than the adult pro.
Handy-person: Lots of people need help around their houses. People paint and do DIY (Do It Yourself) projects all summer long. Let your neighbors and friends know that you are available to help (given your particular skill set) and you just might find yourself in a few great summer jobs.
Post Question:
What is the weirdest summer job you have ever heard someone doing?
Answer the post question here